So you've decided that you want to pursue acting. Now what? You will need a professional actor headshot, resume, and an acting showreel. Today we will be discussing what a professional actor headshot should look like and how you can get ready for this photoshoot.
Actor headshots are like the business card that you present to agencies and casting directors when trying to get accepted for the job. This headshot needs to be high-quality and up to date, which will increase your chances of getting noticed by casting directors.
Even if actor headshots look pleasing and have ideal lighting, it might be not an effective headshot if it doesn't tell a story. The most important element is how relatable and marketable an actor comes across in their headshot.
Let's dig deeper into who needs a headshot, what makes a headshot professional, and what you can do from your side to prepare for your photoshoot better.
This post may include affiliate links. Please read our disclosure policy. [055]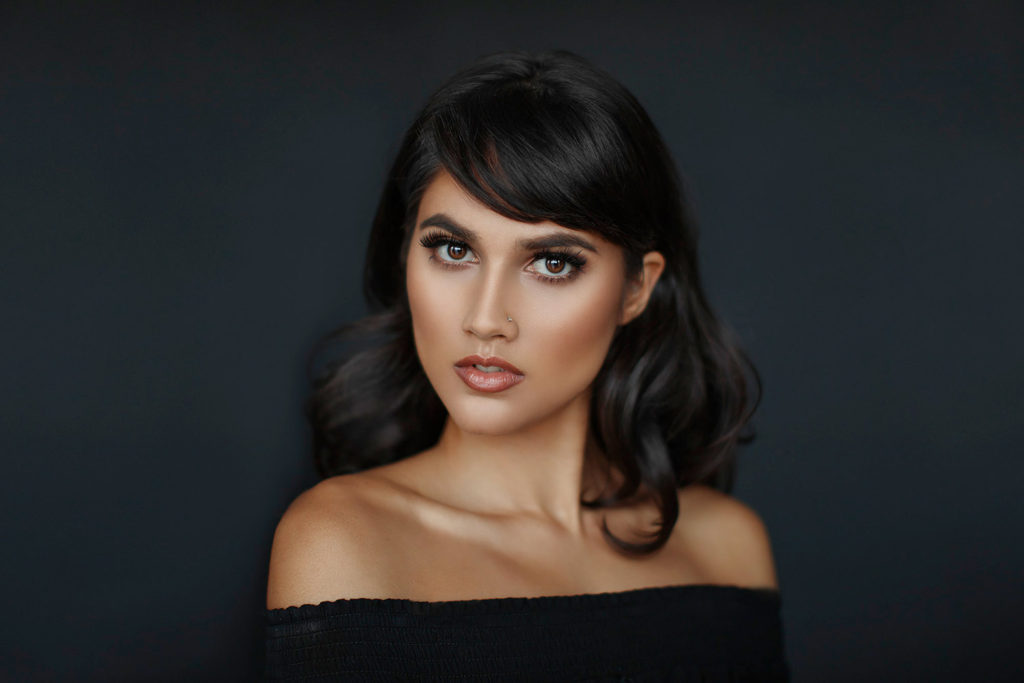 Equipment that I use: Cameras: Canon EOS R5; Canon EOS R6
Lenses: Canon RF 85/1.2L; Canon RF 28-70mm f/2L; Canon RF 15-35mm F2.8L
Light: Profoto B1 500 | Computer: Apple MacBook Pro | Photo by © Sergey Bidun
WHO NEEDS AN ACTING HEADSHOT?
If you are trying to get into acting and getting auditioned for real jobs, you need actor's headshots. A regular resume is not enough to show agents and casting directors why they should pick your profile, out of all the other entries.
An acting headshot should be a picture of the person from the chest up, where the main focus is on the face. That's not to say that it doesn't matter what hairstyle you have or what clothes you are wearing. These are important details in acting headshots as well, and we will discuss them later in the article.
Acting headshots are images that should not only show your physical looks but also give a glimpse of your inner world. These headshots must show your personality, and imply what image you are portraying.
Before you start preparing your wardrobe for the photoshoot, you first need to figure out what your type is. By type, we mean what roles you see yourself being cast in? Are you looking for a role as a doctor, a CEO of a large company, or a stay-home mom? Knowing this will help you to determine how to better prepare for the acting photoshoot.
Only after you define the roles you want to submit for, you will have a better vision of what headshots you should get out of this shoot. It's important to know what expressions and emotions are fitting to your type of roles. Headshots without expressions and a story behind them are not professional acting headshots.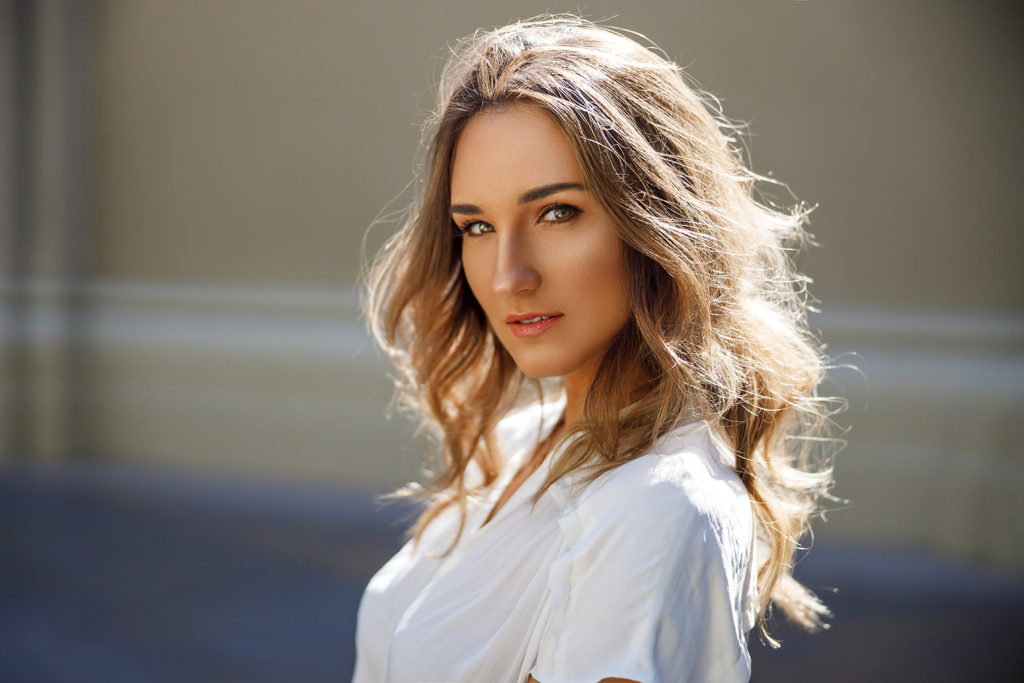 KEEP HEADSHOTS UP TO DATE
For all of you who are just getting into acting, you might be wondering how often you should update your headshot? There is no set rule or specification on this, but I will give you a few tips.
If your current acting headshot is two years old, but it is still a true representation of you in regards to looks, haircut, and physical appearance – you can still use it. But if your headshot is not even a year old, but you recently cut or dyed your hair differently – it's time to update your headshot.
Every actor has the responsibility of keeping their headshots up to date. You must look exactly the same as your headshot picture if you want to appear professional and land the job.
It's pretty self-explanatory as to when actors should update their headshots – any time a significant change happens that changes your whole look or you age.
Another reason you might want to update your acting headshots is if you notice a significant decline in bookings. This could mean that agents and casting directors don't find your headshot appealing for the roles anymore. By getting a fresh set of headshots, you will have a chance of opening up new job opportunities.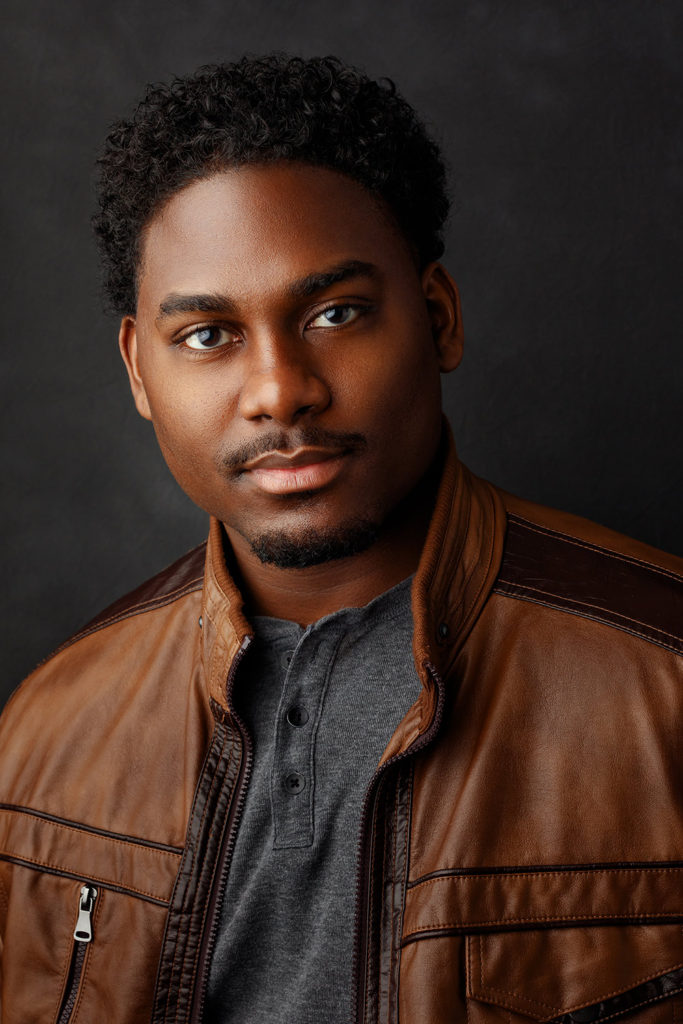 GET PROFESSIONAL ACTOR HEADSHOTS
Professional photography can be costly, but is it worth it? Let me give you an example. Imagine yourself being a casting director and going through hundreds, if not thousands of submissions. Which headshot would stand out to you more, a high-quality studio image, or a snapshot taken on a smartphone? I'm sure you wouldn't look at that snapshot twice. Only professional acting headshots have a chance of getting noticed by the hiring agent.
It's very important for you to get professional acting headshots by a professional photographer who specializes in doing headshots. It might be easier to find a professional photographer in big cities such as Los Angeles or New York, so you will have to do some research in your area.
If you are looking for a headshot photographer in the Sacramento area, Bidun Studio Photography specializes in professional headshot photography, and you can see more of our portfolio here.
It might be helpful to ask fellow actors for photographer referrals. If you like headshots your friends have, ask who their photographer was and check out their work. Only after you've gotten acquainted with the photographer's work – you can start looking into booking a photoshoot with them.
This is very crucial. If you want to be a professional actor, you need to find a professional photographer who specializes in headshots. You can't just go to a JCPenney or somebody who photographs weddings or families. They can take pretty pictures, but it's not what a professional acting headshot is.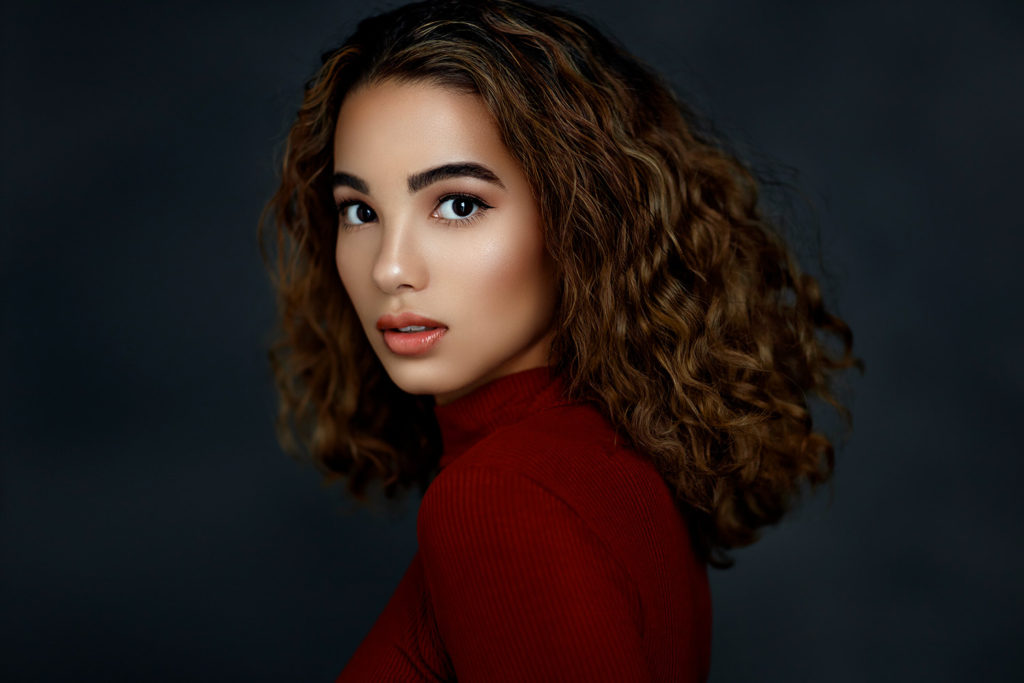 WHAT YOUR ACTING HEADSHOT SHOULD LOOK LIKE
Your headshot shouldn't be merely a really pretty picture of you. Your headshot should show what your type is, what your brand is, and what you are trying to portray.
Casting directors will be looking at your headshot in terms of a particular role. You must think of your headshot and the kind of role you most often get submitted for or that you most often could get cast on.
You have to really dial into your brand. Figure out what your type is, what your brand is, and make sure your headshot portrays it. If you want to get cast for a particular role, make sure your headshot is representing that.
You want to have consistency in who you portray, what you project, what your picture says, and how people are going to be perceiving you. A headshot should be something that somebody can imagine you in various parts within your type. Don't get a headshot with a crazy hairstyle or a weird costume look – it will only show that you are an amateur and not professional.
When you are taking a headshot, you want to look like there is something going on, and have the photographer catch the sparkle in your eyes. This is an important decision-making factor for casting directors, as they are looking through hundreds of submissions. Your headshot has to pop and stand out among all the other actors' headshots.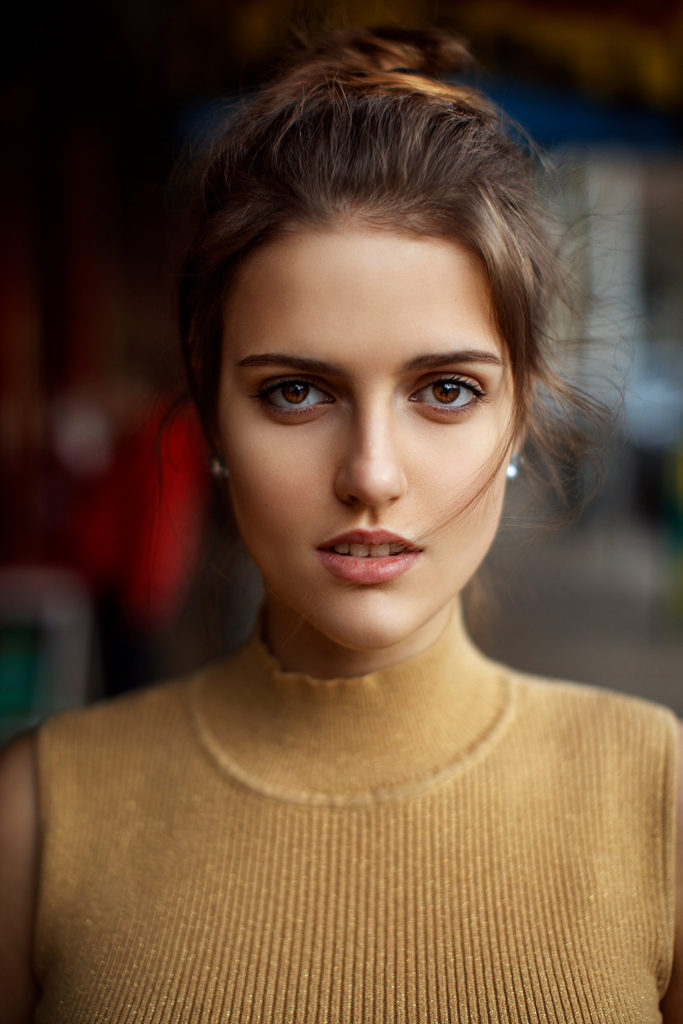 WHAT TO WEAR FOR ACTING HEADSHOTS
You don't need super special outfits for acting headshots. Keep your clothing simple and classic, don't choose anything crazy for your look.
Headshot portrait is usually from the chest up, so you should pick tops in solid non-distracting tones. Choose tops in neutral colors, and maybe one in black. It's better to stay away from pure white outfits as they overpower the subject's face.
Don't choose outfits that are bright-colored or have distracting patterns – they won't do a good job of highlighting your face in the headshot. If you have a top in the color that emphasizes your facial features and eyes, then go for it.
For guys, it's best to bring a minimum of three to five different tops to the headshot photoshoot so that the photographer can work with a variety of looks. For females, I would also suggest bringing up to 5 different tops. Your outfits can be dresses too, just make sure they are easy to change into.
Make sure your outfits are neat, clean, and ironed. Bring everything on hangers, to prevent any unnecessary wrinkles which can potentially ruin your whole look. If you have a professional approach to this photoshoot, you are more likely to get high quality acting headshots.
Bulky, colorful, and heavy accessories can be distracting in a headshot. Consider skipping the accessories, or leaving them to the minimum. Simple earrings are ok, as long as they are not stealing the attention away from your face.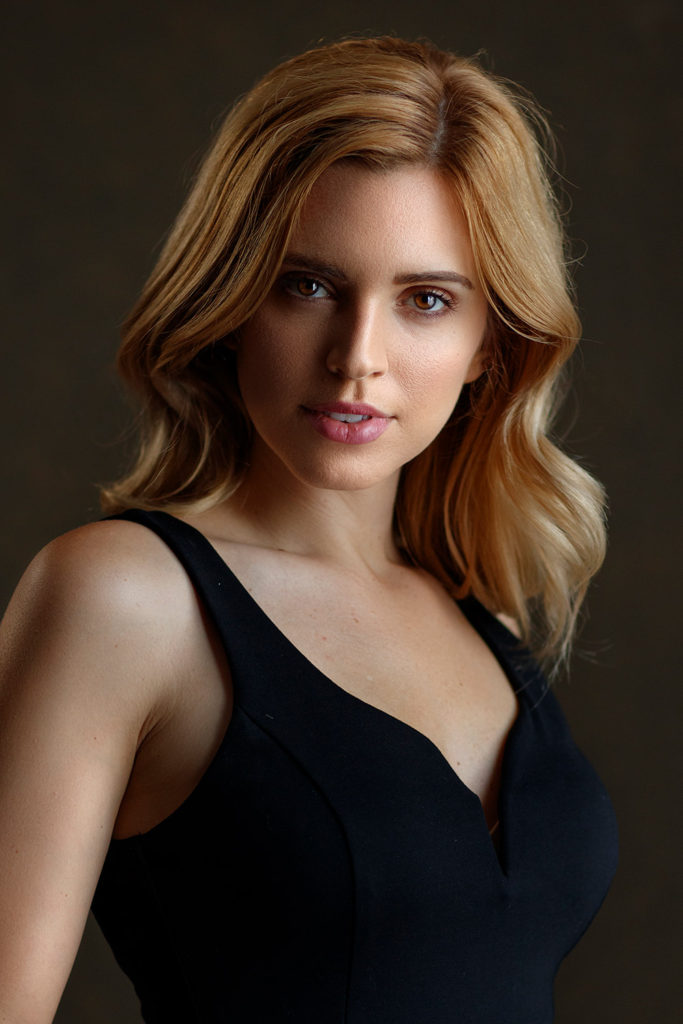 Equipment that I use: Cameras: Canon EOS R5; Canon EOS R6
Lenses: Canon RF 85/1.2L; Canon RF 28-70mm f/2L; Canon RF 15-35mm F2.8L
Light: Profoto B1 500 | Computer: Apple MacBook Pro | Photo by © Sergey Bidun
ACTING HEADSHOT HAIR AND MAKEUP
Your acting headshot should represent your image in the most accurate way possible. This includes the way you style your hair, do your makeup, and everything else on the day of the photoshoot.
HAIRSTYLES
Style your hair in the usual way you wear your hair. This is not a modeling headshot photoshoot where you want to look extravagant.
It's important not to get a new haircut or color the day before the photoshoot. In case anything goes not as planned, you won't be happy with your headshots at all. Also, girls, don't get your headshots taken now if you are planning to completely change your hairstyle in the next week or so.
You want to look the most natural in your headshots, without going overboard with hairstyles and makeup. Casting directors want to work with actors whose acting headshots exactly portray their actual looks.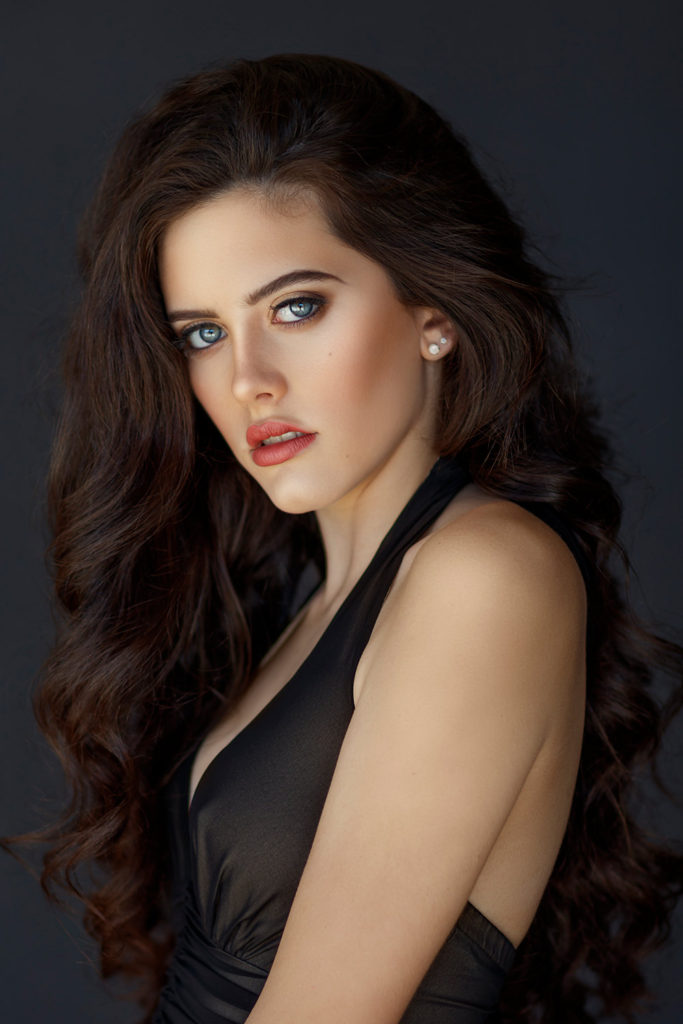 MAKEUP
Light makeup and/or coverup is recommended. Like in any type of photoshoot, you want to gently cover up any skin imperfections and highlight your features. No bright and contrasty makeup, just more of a natural-look kind.
Don't overdo your acting headshots with heavy makeup, as it might force you to get your headshots re-taken.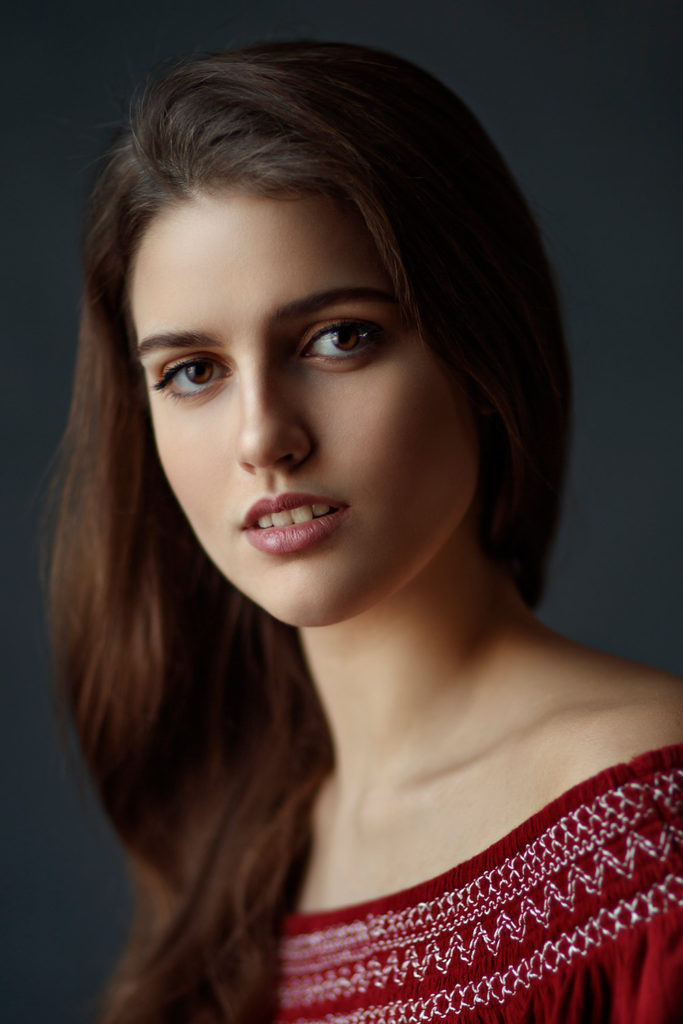 SHAVING
Guys need to be freshly shaved on the day of the photoshoot. If your everyday look has facial hair, then leave it as is for the session. The main idea is to photograph you in the most natural and real way possible.
Another important factor for a successful photoshoot is to come in well-rested and energized. Get a good night's rest on the day of the photo session, to look maximum fresh on the face. To see more of our tips on how to prepare for a photoshoot better, read our detailed guide here.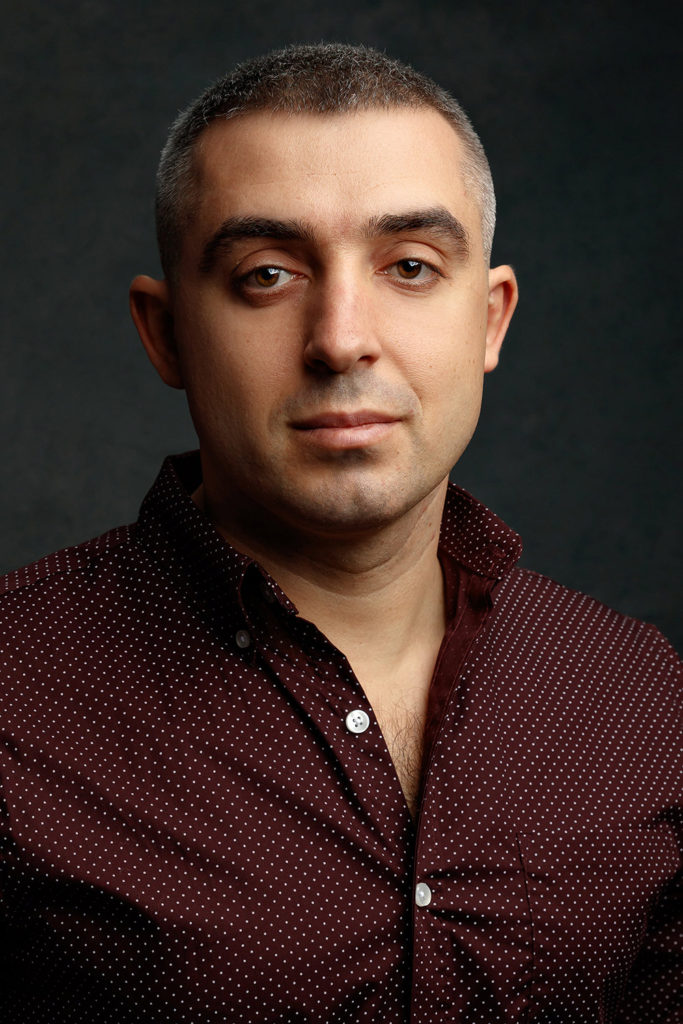 ACTING HEADSHOTS IN STUDIO
The location of your headshot photoshoot can be determined by the type of role you want to submit for. If you are going for one of the serious roles, such as a lawyer or a CEO of a large company – you might want to consider a studio headshot photoshoot.
Headshots taken in studio tend to be crisper, more contrasty, and bring all focus to the eyes of the actor. With the help of artificial light, a professional photographer can add a little backlight to separate the hair from the background.
Headshot sessions in the studio have a lot of benefits to the clients. You won't have to worry about the weather conditions, in case it might rain or snow. You will have an easy time changing outfits for different looks in your photoshoot. Also, you will have the ability to quickly fix your hair if needed.
When you are researching photographers for your headshot photoshoot, pay attention if they offer studio sessions. Not only your acting portfolio will imply that you are dealing with a professional photographer, but you will also have a much more smooth photoshoot time.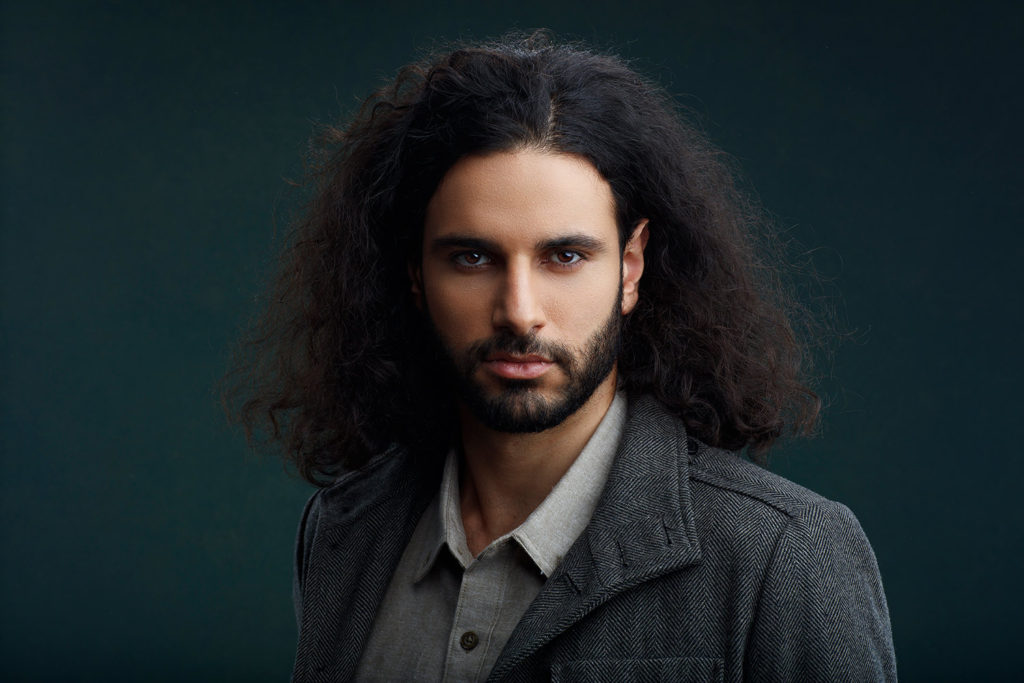 Equipment that I use: Cameras: Canon EOS R5; Canon EOS R6
Lenses: Canon RF 85/1.2L; Canon RF 28-70mm f/2L; Canon RF 15-35mm F2.8L
Light: Profoto B1 500 | Computer: Apple MacBook Pro | Photo by © Sergey Bidun
ACTING HEADSHOTS OUTDOORS
Some actors prefer outdoor headshots due to their specific type of environmental look. Again, it comes back to your type and what roles you want to be cast in. If you feel that an outdoor headshot will represent the true you, then go for it!
Taking headshots outdoors gives actors the freedom to be more natural and relaxed in front of the camera.
A good outdoor backdrop is something solid such as a building wall, a brick wall, or even a stairway. You don't want to take headshots surrounded by rose bushes, or with strange background objects behind you. These types of backdrops will be too busy and distracting during the headshot photoshoot.
In headshot pictures, the main focus is on the face, so the background should be solid and somewhat blurred. As professional photographers, we know which lens to use to capture the story behind your eyes with crispy clear headshots.
Your eyes can tell a lot to a casting director through expressions and emotions. It is exactly what they are looking for when sifting through all the submissions. Beautifully highlighted eyes are the attention grabber for agents and casting directors.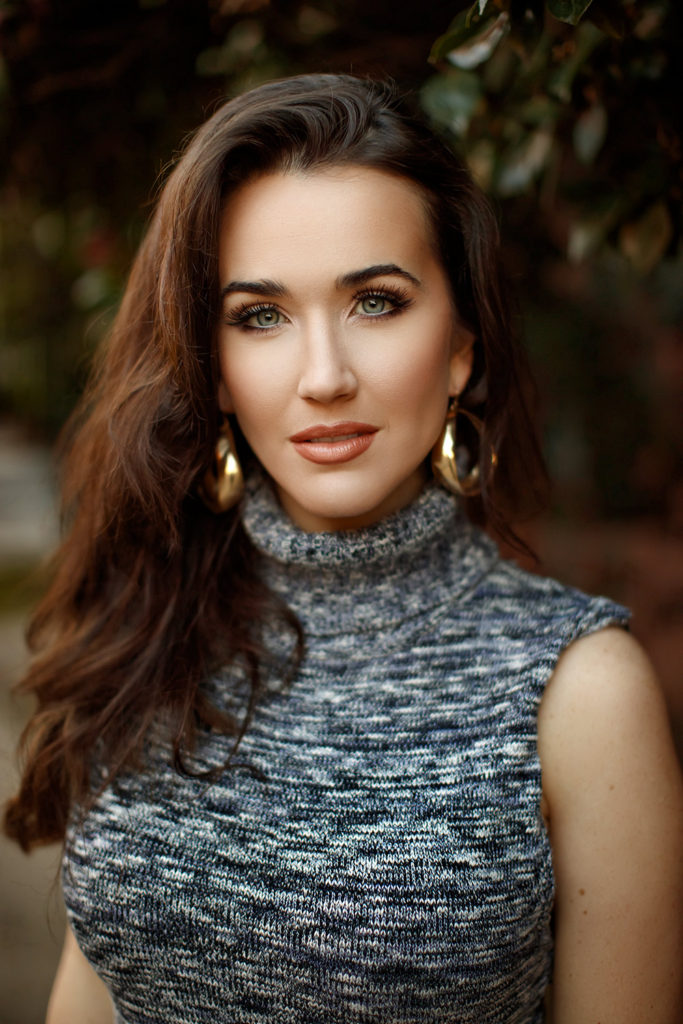 HOW MUCH DO ACTING HEADSHOTS COST?
Headshots sessions cost anywhere between $300 – $1000 and up.
Many factors go into the photographer's headshot session pricing, and you, as the client, must understand them. I'm sure you don't want to spend a fortune on a few headshots, but skimping out on your main marketing tool is not the wisest decision either. Let's discuss what factors go into the acting headshot pricing.
PHOTOGRAPHER EXPERIENCE
We already discussed the importance of hiring a photographer who specializes specifically in headshots. It cannot be just any photographer who has a decent camera. Having said that, you must also consider that photographers improve as they gain more experience. A photographer who's been photographing headshots for more than ten years will be significantly higher-cost than a starting-out headshot photographer.
NUMBER OF LOOKS
Only you know how many looks you want to get out of your headshot photoshoot. It can be as little as two looks and as many as ten or more. The number of looks depends on how many roles you want to have in your portfolio for potential auditions.
PHOTOSHOOT TIME
Some photographers have pre-built photoshoot packages with different time limits. This strategy may work for you if you know approximately how much time you might need to get enough headshots. Other photographers don't put a time limit on the photoshoot and base their pricing on the number of images the client needs.
NUMBER OF HEADSHOTS
If you are just starting in acting, you probably need only a few professional headshots. Someone with more experience, and more opportunities for gigs, may want to get ten or more headshots. The number of headshots plays a big role in the total amount you will spend on your headshots.
PROFESSIONAL RETOUCHING
Even if you get your makeup done professionally, your headshots will need some retouching. Some photographers do the image retouching themselves, and some outsource to professional labs. Either way, this is a time-consuming and costly service that the client must account for when booking their headshot session.
PRINTED HEADSHOTS
Professional photographers have access to professional printing labs. You can get printed copies of your headshots through the photographer at an additional cost. The amount for this service will depend on how many prints you want to get from the headshot photoshoot.
HAIR & MAKEUP SERVICE
This is an optional service that many photographers offer at an additional cost. If you can't do your own hair and makeup – ask your photographer whom they can recommend for this service. Hair & makeup service usually ranges from $100-$200 depending on the number of looks.
When choosing the best photographer, consider not only their pricing but also the style and quality of headshots he/she produces. You don't want to choose the cheapest photographer on the market just because their price is within your budget. Doing so may result in low-quality images that casting directors will disregard and not give you a chance to audition.
The main factor is to look at different photographers' work, compare it, and see whose work is closest to your type and brand. You are after high-quality professional headshots that will be your most used marketing material.
CONCLUSION
Actor headshots is not something you should take lightly when building your acting portfolio. Without a professional headshot, you don't have a chance to get any auditions or hired for a job.
I hope this actor headshot photography guide will be helpful for you when preparing for this important session.
If you are looking for a professional headshot photographer in the Sacramento area or Bay area – Bidun Studio Photography is ready to serve you. View more of our headshot portfolio here, and contact to reserve your photoshoot spot.
IF YOU FOUND THIS POST HELPFUL AND INFORMATIVE PLEASE SHARE IN YOUR SOCIAL MEDIA.